I'm really stunned at the quality and quantity of harvest updates coming from Languedoc Roussillon winemakers in 2011.  We've come a long way and I can definitely feel the virtual groundswell.
Without further ado, here are some of my favorite harvest updates in the region.
Favorite Harvest Updates
I'm a member of this group of winemakers "from elsewhere". Louise Hurren is curating the page very well with lots of fun updates from winemakers who don't always have the time to post their own photos and messages during harvest.
The Fulla clan was doing awesome updates last year too. But this year's harvest albums, I love how many photos focus on the harvesting team having a silly good time while they make their excellent wine.
This caviste in Montpellier goes around with his camera all the time and he doesn't stop at harvest.  Lots of fun updates from some of the wineries represented in his shop and venue.
5000 Vines, Le Couvent Roujan
The 5000 vines blog did an awesome six part day by day catalog of their harvest with lots of photos of everybody working together to bring in their ripe grapes.  They also did some video and even one audio clip of the bubbling sounds of a live fermentation! Very well done!
All of these are really swell collections of updates and deserve some attention!
If you find other updaters please let me know about them so I can follow along and add them eventually.
These updates are extremely important because they help communicate exactly how active and alive the winemaking community is in the Languedoc Roussillon.  It's wonderful that some people are pushing so hard to get our lives out to the rest of the world!
Good work everybody!
Full Frontal Grapes!
Livet i Languedoc
5000 vines fermentation
 Other Languedoc-Roussillon harvest updates
Hervé Bizeul talks about double rainbows and ennui.
Something in Swedish at Domaine de la Rabidote!
At O'Vineyards, I wax poetic about the whole country of France's harvests.
A text based update from Domaine Guizard. Give him a break, it's hard to take pictures when you're covered in raisins.
Harvest update from Pech Celeyran.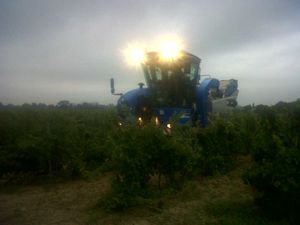 Girls and Boys split the winemaking duties at Pech d'Andre
Related Posts: