Vineyards around the Languedoc Roussillon are posting beautiful pictures that showcase that special spring time mood when life returns to the vines and wild flowers of the region.
Here are a few of my favorite photos with links to the original winemaker blog that posted them.
Young pinot grows at Clos Romain
Springtime pictures from the 5000 vines blog attached to Couvent Roujan
This is the Syrah cane pruned.
Carignan in a type of head pruning, or bush pruning.
Gorgeous tractor picture from springtime in la Rabidote
And it's not springtime without some wild asparagus popping up in the vineyard via @Domaine Jones
But spring also has its hardships.  March and April showers can cause a lot of problems.
Photos of la Clape after a torrential rain in March turns the massif into an island (or at least a peninsula) once again. via Pech-Céleyran

Fowl swimming in the vines.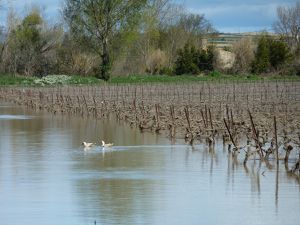 And on Easter Sunday, the Corbieres was hit with a terrifying hail storm that has devastated certain parcels.   I don't know of any winemakers who are posting photos yet (they're surely busy sending said photos to their insurance companies!), but here's an article from La Vigne that includes a photo of the damage.
Related Posts: